Jiangsu Province 2nd Members' Representative Convention
16/02/2017, JiangSu daily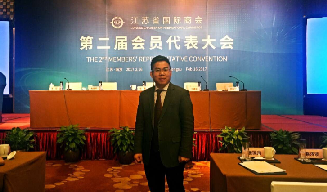 CCPIT and JiangSu Province International Commerce its 2nd Members' Representative Convention and the 2017 Chinese New Year Reception of JIANGSU CHAMBER OF INTERNATIONAL COMMERCE"JSCOIC" was held in Nanjing Jinling Hotel on Feb-16,2017.

Jiangsu province's vice-governor Zhang Lei, The secretary-general of CCPIT Yu Jianlong, and the Chairman of Jiangsu International Commerce Da Jiaxiang etc government official were participated this conference and made speech.
At the same time, conference invited US,Germany, UK, Ethiopia, Belarus, India, Ireland, Pakistan, Slovenia etc more than 20 countries embassy representative to participated this conference. More news reports please read it from online at CCPIT,JiangSu
Mr.William WU, managing director from TOKO Technology(wuxi) Co.,Ltd was invited to the conference.
¡¡
Notes to Editors
more news about us is coming....